According to Omdia, OTT subscriptions are expected to increase another 8% this year, with that growth accelerating over the next several years. OTT revenue growth is even more impressive. Mordor Intelligence projects that revenue growth for OTT providers will average 11.22% from 2020 to 2025.
What's driving this growth in OTT customer acquisition and revenue? There are three factors: inclusion on every platform, original or exclusive content, and promotion.
Read on to learn about why these three factors are driving OTT subscriber acquisition now and towards the foreseeable future.
1. Inclusion on every platform
An eMarketer report found that while 63% of viewers use their TVs to watch streaming, while 44% of their viewing takes place on mobile devices and computers.
This mix of devices requires OTT providers to serve up a powerful and user-friendly viewing experience across all Connected TV, web, and mobile platforms. These include smart TVs, streaming media players, smartphones, tablets, and computers. If you don't develop an app for a given platform, you risk alienating a significant percentage of your potential audience. 
Consider HBO Max, which AT&T's WarnerMedia launched without  Roku or Amazon Fire TV, two of the largest streaming platforms in the U.S. Collectively, Roku and Fire TV control 70% of the U.S. streaming media player market. 
Even though AT&T announced that HBO Max had acquired more than 4 million subscribers in its first two months of operation, you can presume those numbers would have been more significant with coverage on Roku and Amazon.
NBCUniversal's Peacock presents another cautionary tale. Just like HBO Max, Peacock also launched without a presence on Roku and Amazon Fire TV. It wasn't available on the Samsung Smart TV platform either. This absence affected Peacock's launch numbers – and continues to dampen potential viewership. Even though Peacock eventually signed an agreement that placed it on the Roku platform, the service still isn't available on Amazon Fire TV or Samsung Smart TV eight months after launch. 
Peacocks' distribution issues are due to impasses between NBCUniversal and both Amazon and Samsung. NBCU and Amazon are mainly fighting over how to distribute the service. Amazon reportedly wants to sell Peacock subscriptions through its Prime Video Channels marketplace. But NBCU wants all customers flowing through its direct-to-consumer app, where it would have more control over the experience—and over users' viewing data. A report from Vox last November reaffirmed that channels distribution remains the big sticking point. (NBCU is now telling Amazon users to sideload the app of their Fire TVs – a less-than-ideal solution.)
The bottom line is that OTT service providers need to be on every device and every platform. If a provider is not on a platform, it will lose viewers – even if those viewers can watch on another device. With so many OTT choices available, viewers won't settle for any inconvenience.
Since many viewers watch programming on a myriad of devices, all platforms should offer a similar user experience. If the user experience on a mobile device isn't the same as the one on their smart TV, they may decide to move to another OTT provider that offers a better, more seamless experience. 
2. Original or exclusive content
Why do people choose one OTT service over another? The answer is simple: the content. While library content is important, it's original content that increasingly drives new OTT subscriptions.
Consider Disney+, last year's most successful OTT launch. Disney+ launched with a vast library of Disney, Lucasfilm, and Marvel properties and followed that with popular new shows based on those properties such as The Mandalorian, WandaVision, and Muppets Now! 
HBO Max had a slower launch with numbers picking up when original programs such as Zack Snyder's Justice League and The Flight Attendant were added to the mix. 
It's not just subscription services getting into the exclusive content game. Roku acquired the rights to the now-defunct Quibi, debuted the original series Cypher, and acquired global distribution rights to This Old House.  Fox's ad-supported OTT service, Tubi, is also rumored to be getting into originals.
To attract and retain viewers, OTT providers need a compelling selection of exclusive IP. The competition is getting more intense, which may lead to some providers merging or dropping out. Those providers that offer the most extensive selection of high-profile content will be the most likely to survive – and thrive.
3. App Discovery
All the content in the world won't attract viewers if those viewers don't know about it. In an increasingly crowded market, OTT providers must promote their offerings to make their brands stand out. 
Mobile app store and on-platform connected TV ads are two of the most promising ways to attract new customers.
Mobile App Store: Ads & ASO
Today's OTT viewers are on the go. 
According to one report, millennials spend more time watching video on their mobile devices than on their TVs. Considering 87% of this same group admit there's never a moment their smartphone leaves their side, mobile devices should be crucial for app discovery. 
Mobile advertising is five times more effective than other online advertising, and mobile users spend 90% of their phone time using mobile apps.
In short, app store advertising and optimization are the way to go. To attract new subscribers, OTT providers need to increase their advertising efforts with mobile app store ads as well as organically through app store optimization:
Mobile App Store Ads
As seen in the screenshot below, the Apple App Store presents a perfect opportunity to bring brand awareness and clicks to your app. The Google Play store also provides a similar advertising platform.
For example, a Hulu app search provided the perfect opportunity for the HBO Max ad to steal some clicks.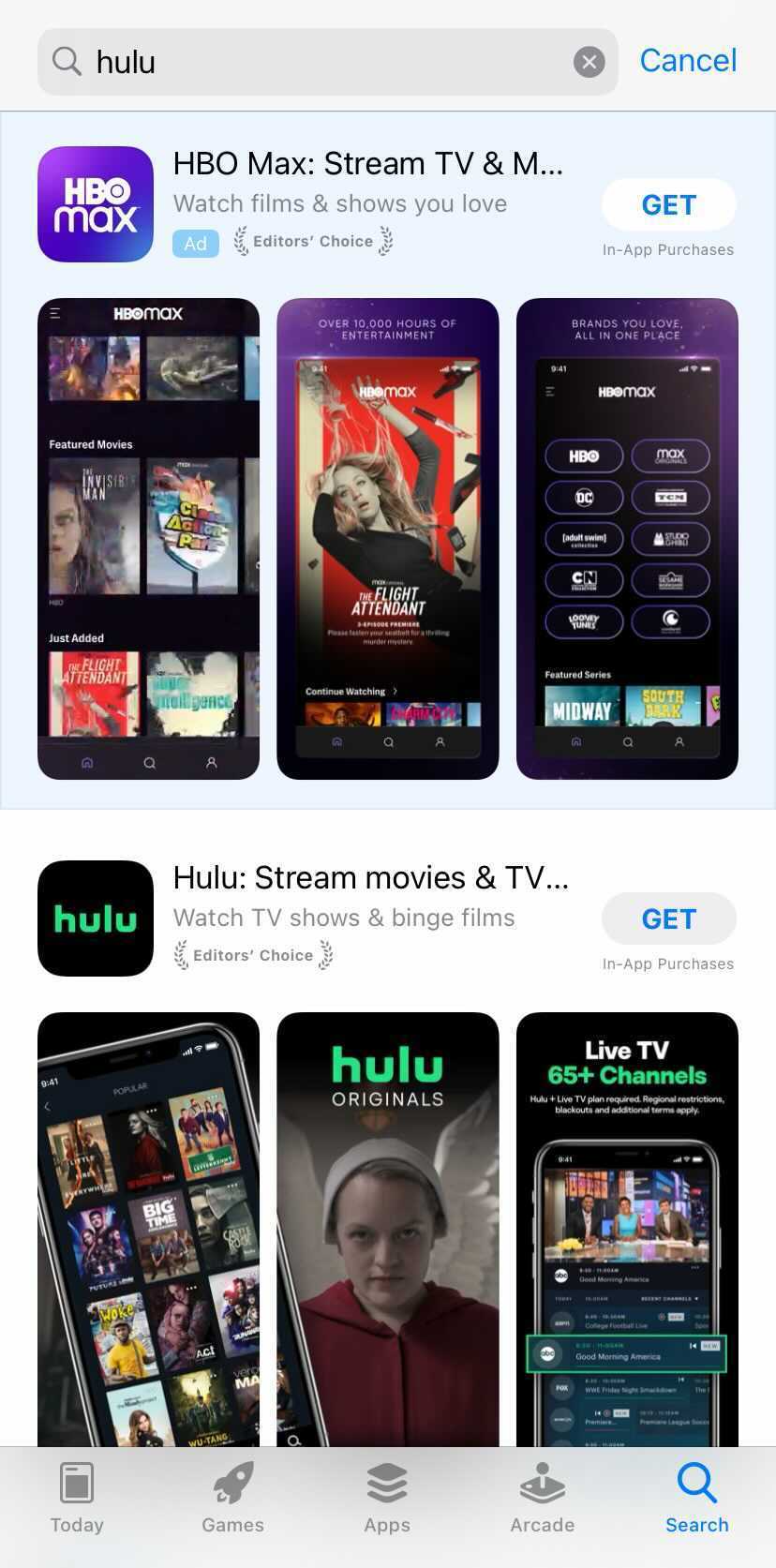 To learn more about app store advertising, check out the resources on Apple  Search Ads and Google App Campaigns, respectively.
App Store Optimization
App Store Optimization, or ASO, is like search engine optimization for apps. Just like in search engines, app stores also are tremendously competitive. With ASO, your goal is to make your app more visible in an effort to increase its discoverability. 
There are many ways to organically optimize your app within a store to increase its visibility, but here are some of the core ones to focus on:
App Name, URL, and Subtitle
App Keyword Field(s)
App Reviews and Ratings
Learn more about some of the specifics of ASO here.
Google says that 40% of apps are discovered within the app store, so while this is just one aspect of discovery, it is an important one.
On-Platform Connected TV Ads
Display ads on Connected TV platforms are an additional way to purchase targeted display ads. For example, publishers can run ads on the home screen within the Roku platform that prominently drive awareness of their app and allow users to deep-link directly to what's being promoted. For example, the app, a series, a collection of movies, etc.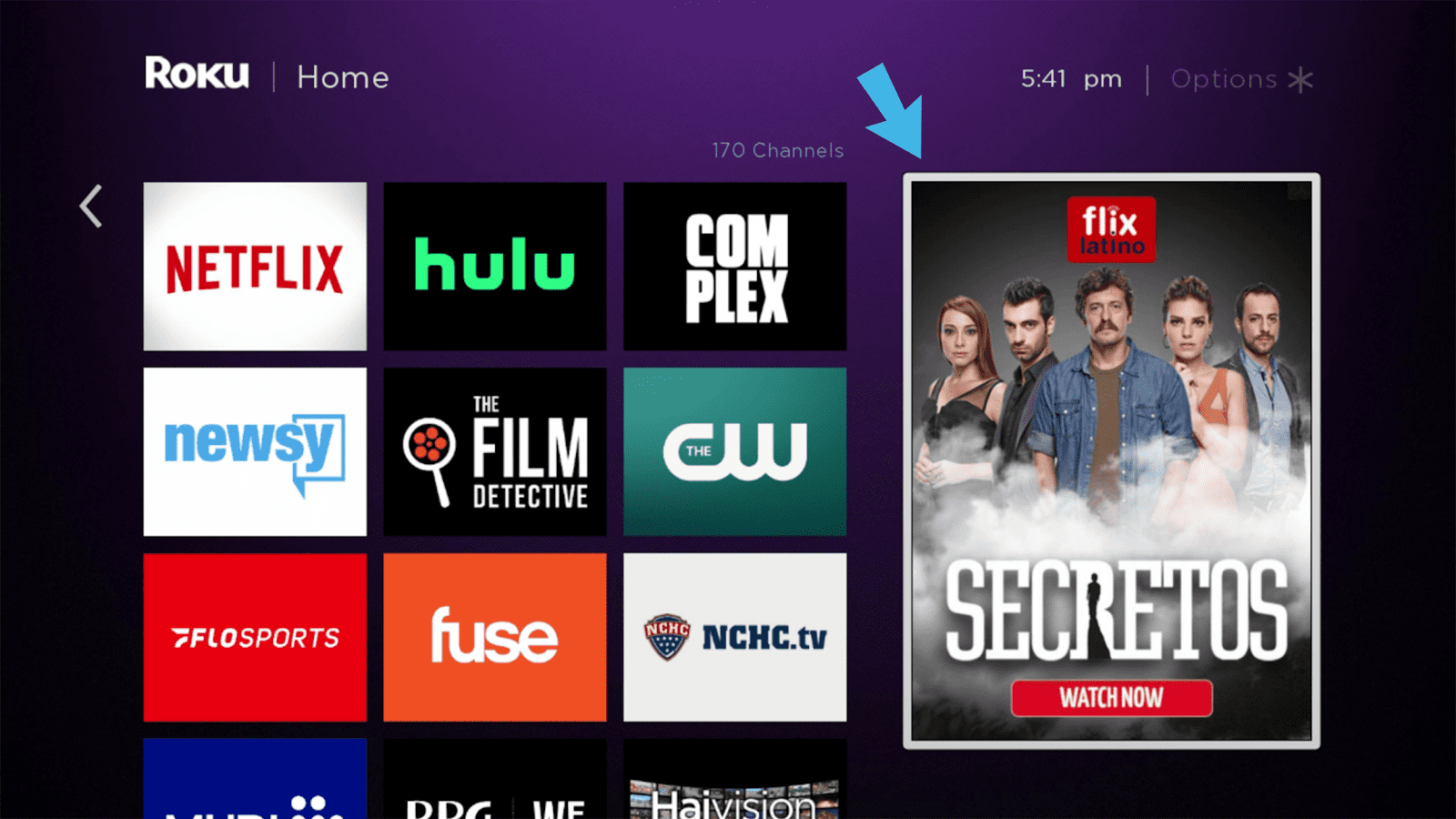 According to Roku, these ads have the following benefits:
Click-through rates of 0.7%
Increases in user engagement by more than 100%
Increases in user sign up by 2x
In addition to Roku, you can also sponsor ads on platforms such as Apple TV, Google TV, Amazon Fire TV, and Samsung Smart TV.
Let Zemoga Help You Reach Today's Mobile Viewers
The OTT business model is changing, with a definite shift to viewing across multiple platforms and providing more original and exclusive content. OTT providers need to adapt to these changes and more aggressively promote their unique IP. Providers should promote themselves to mobile viewers via app store ads, ASO, and display ads on Connected TV platforms across the major streaming media platforms. 
Creating an OTT service of your own? If so, Zemoga can help you navigate and take advantage of these shifting viewing patterns. We're dedicated to helping you build better digital products – and better reach viewers where they are today. Contact us today to learn how we can provide the expertise you need.
In the meantime, learn more about how OTT service providers can increase short- and long-term awareness, inbound traffic, conversions, churn reduction, customer lifetime value and more, with our free ebook: Optimizing the OTT Customer Journey.