Roku was the best-selling smart TV OS in the United States in 2020, selling 38% of the total share of smart TV operating systems. Part of their success lies in the breadth of viewing options through Roku Channels, which have helped grow the company to a monthly active user base of 53.6 million in the US alone. Currently, there are over 10,000 Roku Channels available in the United States.
For content publishers, these metrics alone place the creation of a Roku Channel app at the top of the list. Whether you are thinking of building yours or already have one, learn more about Roku Channel monetization models and marketing strategies you can capitalize on today. 
Recommended: How to Make a Roku Channel
A Quick Primer on Roku OTT Models for Publishers: AVOD, SVOD, TVOD, & Hybrid
The three primary streaming video business models are: 
Ad-supported (AVOD), or 
Subscription-based  (SVOD), or 
Transaction-based (TVOD) 
You can also combine any of the three to create a hybrid business model similar to brands like Peacock (NBCUniversal), Paramount (ViacomCBS), HBO Max (WarnerMedia), Discovery+ (Discovery Communications), and Hulu (Disney).
Advertisements
AVOD (Ad-based Video on Demand) channels generate money by selling ads, typically pre-roll, mid-roll, or post-roll advertisements. However, other formats are available, especially if you're selling your own inventory. Free Ad-supported Streaming TV (FASTs) should also be mentioned in the AVOD conversation, with the distinction that FASTs are not on-demand, rather an option that purely mimics the linear TV experience. 
The lines between AVOD and FASTs are blurring, so we prefer to use the term "ad-supported" streaming, whether the content is on-demand, linear, or both.
Subscriptions
SVOD (Subscription Video on Demand) services charge subscribers a monthly, quarterly, or annual subscription to view content. There are no limits to how much content a viewer can watch, and the subscription renews unless canceled.
This model is great as a predictable revenue stream. Still, content publishers must ensure a consistent stream of new content to prevent viewers from canceling (aka churn). Research  has shown that a limited selection of content and content that is not refreshed enough can be significant causes of subscription cancellations.
Transactions
With TVOD (Transactional Video on Demand), you offer a service that is akin to pay-per-view. The user can join the service for free but pays to watch specific content a la carte. The content can be a movie rented for a period of time, most typically 24-48 hours, the purchase of a movie or TV show for unlimited use (ownership), or a sporting event (live stream).
Because the viewer is not subscribing or getting free content with ads, its success is generally focused on the quality of content you have -- like newly released movies or popular sporting events -- as they are on a per-transaction basis. 
Amazon Prime is a well-known platform that offers TVOD programs within their offerings but mixes it with SVOD for a hybrid approach. 
Hybrid
The hybrid business model supports all of the above and is an attractive option for the following reasons:
It provides you with multiple revenue streams: ads, subscriptions, and transactions
It allows free access to content that encourages trials that lead to premium services
It prevents the reliance on a business model that has not yet been proven
Hulu is another excellent example of a hybrid monetization model. They offer an entry-level subscription option with ads, an ad-free subscription model, and an additional option that offers live and on-demand content.
But having a monetization strategy is just one piece of the puzzle. You'll also want to consider how you'll drive awareness and sales to your channel.
4 Ways to Market Your Roku Channel
Below are four different ways to get customers into your marketing funnel so you can monetize them.
Search Engine Optimization
Universal Search
YouTube
On-platform Advertising
Search Engine Optimization
Search Engine Optimization (SEO) for Roku Channels is different from App Store Optimization (ASO) in that you are relying on the search engines to drive traffic to your website instead of an app store. Instead of having users try to download your app, you are focused on them finding specific shows, bringing awareness to your app, then downloading that app on their Roku platform to stream it. 
Here's a common 3-step search engine scenario:
A viewer types in a search for "watch Labor Day."
Google provides Plex (Plex.tv) in the search results
The user discovers that they can watch the movie on Plex.tv or via the Plex Roku Channel. Having a downloads page on your website is helpful, especially for Roku, because the users can download the Roku app right from their computer or phone, provided they're signed into their Roku account.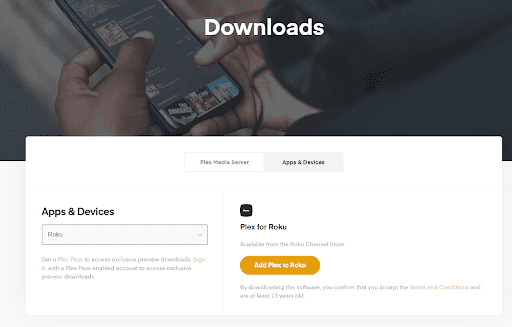 The takeaway here is that your website, like Plex.tv, can get discovered in the Search Engine Results Pages (SERPs). To increase your chances of ranking, you'll want to focus on the following:
Have a dedicated page for each title (ex. https://watch.plex.tv/movie/labor-day)
Optimize the site's title tag, meta description, and images for relevant keywords (ex title tag: Watch Labor Day (2013) | Plex)
Include a detailed description of the movie on the page, as well as some engaging visuals
Build contextually relevant links to the page from trustworthy sites
These tips are by no means an exhaustive list of SEO to-do's but will get you one step closer to generating views from an additional, high-traffic marketing channel.
Universal Search
Universal search leverages voice or built-in search functionality. It allows Roku users to easily find movies and TV shows by title, actor, genre, director, and more from across multiple apps simultaneously.
Once a user performs a search, a results page is displayed, listing the app providers containing the search query and showing if the title is free (AVOD), subscription (SVOD), or paid (TVOD). They are then able to launch the channel of their choice. If they haven't previously installed the app, they will be prompted to do so. 
Because most consumers are not familiar with what app(s) owns the license rights to the title they want to watch, the search leads to discovery and installation of the app, making universal search a very effective discovery, audience growth, and subscriber acquisition technique. 
Implementing Universal Search provides the following advantages
Surfaces content across app providers by app type
Shows a user which apps to choose from to watch the desired content
Drives new customer acquisition & app downloads
Retains existing customers
Makes your content more visible on the home screen
According to USAND, universal search boosts streaming video app monthly viewership by an average of 20-25%. Smaller content publishers can even experience 100-200% increases, especially if their app(s) are lesser-known or when the content library features popular titles or stars searched more frequently.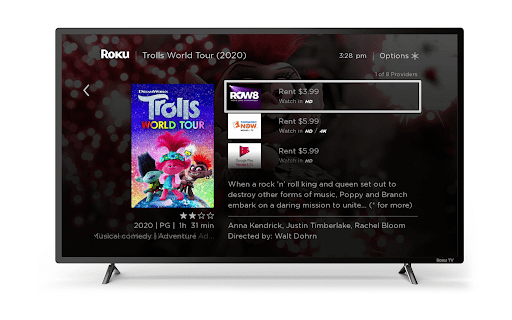 How to Implement Universal Search on Roku
Only movies, TV shows, and clips can be indexed in Roku's content database
Supports text-based and voice search
Roku is the only CTV platform that is open to any app onboarding to its universal search function.
Apps can join Roku search by supplying Gracenote TMS IDS (license required), use their online video platform, or a 3rd Party service such as USAND or an in-house solution.
You can track Roku search using the data from "Roku Source Parameter"  and add that to your analytics.
More info Roku Universal Search: Roku SDK Documentation
YouTube
Social media is another platform to distribute content, but it can effectively drive traffic back to your Roku Channel and thus give you more opportunities to monetize your viewership.
The following are examples of how some OTT programmers leverage social media, specifically YouTube, to drive audience growth.
Bon Appétit
To foster an audience of binge-watchers, accumulate inventory to sell to advertisers, and differentiate the company's direct-to-consumer app from its YouTube channel, Bon Appétit needed a strategy that would give YouTube subscribers a reason to shift their attention away from YouTube. 
The company created a "batch-and-window" strategy to delay the time between when an original show would premier on its OTT app and when it would become available on its YouTube channel. Bon Appétit released multiple episodes of shows at a time to further incentivize people to use the OTT app instead of waiting for the videos to become available on YouTube.
Netflix, Crackle, Hulu, and Apple TV+
Companies such as Netflix, Crackle, Hulu, and Apple use YouTube and social media to showcase trailers and other ancillary content to encourage app downloads.
On-Platform Advertising
There's a variety of paid opportunities to drive new customer acquisition. The primary "off-platform" channels (AdWords, Facebook, Twitter, YouTube, etc.) offer their own advertising flavor.
But, you can also sponsor ads directly on the Roku platform.
For example, Roku allows publishers to run advertisements on the home screen to the right of the My Channels section. These ads are a great way to increase awareness and drive app downloads on the platform. 
Want even more great tips on how to market your Roku Channel and improve your bottom line? Then, check out our free ebook: Optimizing the OTT Customer Journey.
Make Your Roku Channel Successful
In addition to choosing the appropriate Roku Channel Monetization strategy, you'll have to focus your efforts on marketing to improve the chances you'll be successful. 
For your Roku Channel to stand out, it is vital to implement some, or all, of the marketing strategies mentioned above to see what works best for you.
If you are still unsure which monetization option suits you most, we'd love to help. Zemoga continues to be the gold standard in Roku development and is one of Roku's trusted partners that can help set you up for success with a great Roku Channel.